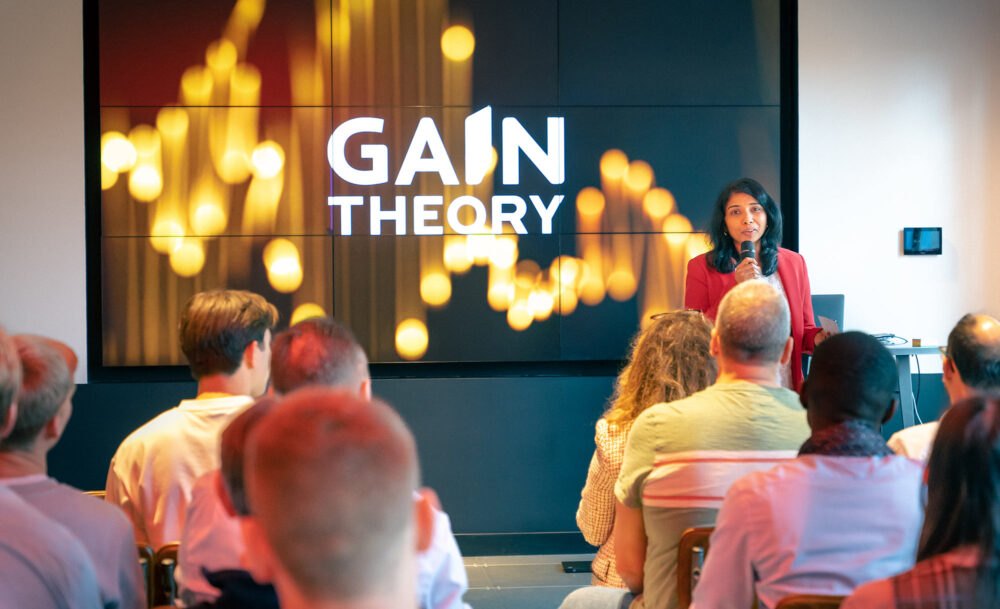 Our culture
Gain Theory's vision is to accelerate growth for ambitious brands, but we are just as focused on creating a culture that enables all our people to thrive.
We have four values that define our culture and shape how we work together:
01. Be curious
02. Be positive
03. Act with consideration
04. Make it better
01. Be curious
We believe that there's more to be gained by continuously asking, understanding, learning, and developing.
---
"Gain Theory encourages you to disrupt the status quo where appropriate. For example, I wanted to help make our data pipeline more readable and easier to manipulate. It was great to be given the time, space, and resources to master a new tool that enabled me to do this."
Rio Rinaldi
Senior Analyst
02. Be positive
We believe that there's more to be gained by continuously asking, understanding, learning, and developing.
---
"I love contributing to the collaborative spirit that exists at Gain Theory. Approaching work in this way is not only more fun, but it also opens doors to asking questions, contributing new ideas, and getting to know my colleagues better. People are supportive, helpful, and genuinely want to see you grow and be happy, so being positive is easy!"
Kathryn Anderson
New Business Operations Associate
03. Act with consideration
We believe in seeing things from someone else's perspective; respecting and embracing diverse thinking.
---
"I've worked at companies where no one reaches out to you if you're new, you work in a small team, or because you're not an extrovert. Consequently, I always introduce myself to new people at Gain Theory if I feel they are in similar situations because I want them to feel included."
Jonathan Sharpe
Principal Analyst
04. Make it better
We believe in continual improvement and stretching our abilities, being honest with ourselves and each other.
---
"Whether it's learning more coding skills at work or bettering myself through my personal hobbies, such as Taekwondo, I try to improve all aspects of my life. Seeing the positive impact that living this value has on myself, my colleagues, and our clients, is immensely satisfying and fulfilling."
Aimee Chung
Manager
Why work at Gain Theory?
Here are five things we are proud of offering to our people:
Growth and development
We empower our people to reach their full potential. That's why we offer a dynamic environment in which you can grow your career and develop new skills via best-in-class training programs and access to top resources.
Meaningful work
We're passionate about making a positive impact on our clients by doing meaningful work that creates value. Join us and you will be part of a team that makes a real difference to all the brands we work with.
Flexible by design
We believe in balancing our work and personal lives, which is why we offer flexible working arrangements. Our hybrid approach allows you to work remotely or in our offices, and we're always looking for ways to enhance your wellbeing.
Brilliant benefits
We provide the support you need to be your best self. Our benefits package includes generous leave allowances, reward and recognition initiatives, private medical insurance, pension, tuition and student loan support, and much more.
Culture with heart
We provide a positive and enjoyable working environment that celebrates our values and enables you to make meaningful connections with colleagues via a wide range of events, such as charity events and annual parties.