The 1970s were a decade that legendary director Sir Ridley Scott has described as "a golden age" of advertising. It was a time when iconic campaigns, such as 'As good for you today as it has always been' by Hovis and 'I'd like to buy the world a Coke' from Coca-Cola, were created.
But it was also a time when there was no robust measurement of the effectiveness of such advertising. It was into this breach that a London-based company, now called Gain Theory, stepped in 1973. With a pioneering way to use econometrics, it aimed to change the way advertisers made investment decisions by providing data-informed insights that improved ROI and increased growth.
Learn more about some of the key innovations from our history using the timeline below:
1970s
We pioneered the use of econometrics via marketing mix modelling to understand the effectiveness of marketing.
1980s
We were the first to develop an advanced econometric model that took into account the recency and frequency of the message.
1990s
We launched the AdModel™ to help brands understand "how" consumers respond to advertising across all channels and maximize marketing's impact.
2000s
We were one of the first companies to measure the long-term direct and indirect effects of advertising.
2017
We launched Sensor™, our privacy-compliant attribution solution that enables marketers to optimize campaigns across multiple channels in near-time with granular insights.
2018
We launched our decision-making platform Gain Theory Interactive, which enables brands to view, optimize, and forecast current and future investment decisions.
2019
We launched two additions to our technology stack: data platform Gain Theory Data One and advanced analytics platform ROVA.
2020
We continued to build on the success of Sensor™ by integrating audience and commerce capabilities. 
2021
We launched Hi-Fusion, our approach to marketing effectiveness that combines hindsight (understanding what has happened) and insight (why it happened) with foresight (what might happen in the future).
We've come a long way in the last 50 years, but a commitment to driving growth through innovation remains just as strong in 2023 as it did in 1973. Today, Gain Theory is a global marketing effectiveness and foresight consultancy that is part of WPP. Last year, we generated $1.6b in client value, helping us to achieve a client recommendation score of 9/10.
Contact us to discuss how our innovations can help you to accelerate growth.
Constant innovation is in our DNA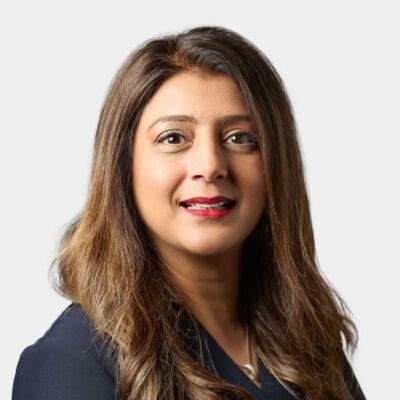 "Fostering a culture of innovation is crucial to our long-term success, so I actively support and participate in making this a reality." Gain Theory Global CEO Manjiry Tamhane
Read this exclusive Q&A with Manjiry in which she looks back on some of the key milestones from our history, discusses how she fosters a culture of innovation today, and outlines the important role that diversity plays in the innovation process.
How our innovation is improving your decision-making
We offer a wide range of solutions that accelerate our clients' growth by putting data-informed insights at the heart of every investment decision. These include:
Our Marketing Effectiveness Index, which is a diagnostic tool that pinpoints the barriers to and opportunities for growth
Business driver modelling, which is our unique take on MMM that helps you to understand the short- and long-term impact of all business drivers
Our foresight capabilities, which enable you to plan more confidently by preparing you for multiple future scenarios.
Read more about the innovative solutions we offer.
What the industry says about innovation at Gain Theory
Gain Theory was named a Leader in The Forrester Wave™: Marketing Measurement and Optimization, Q3 2023. Our innovation roadmap was described as "…differentiated, with a focus on building next generation business models, creative optimization insights, and using GenAI to enhance platform capabilities."
Read more about why we were named a Leader in The Forrester Wave™: Marketing Measurement and Optimization, Q3 2023.